There's a new generation of artificial intelligence tools that can help workers spot malicious emails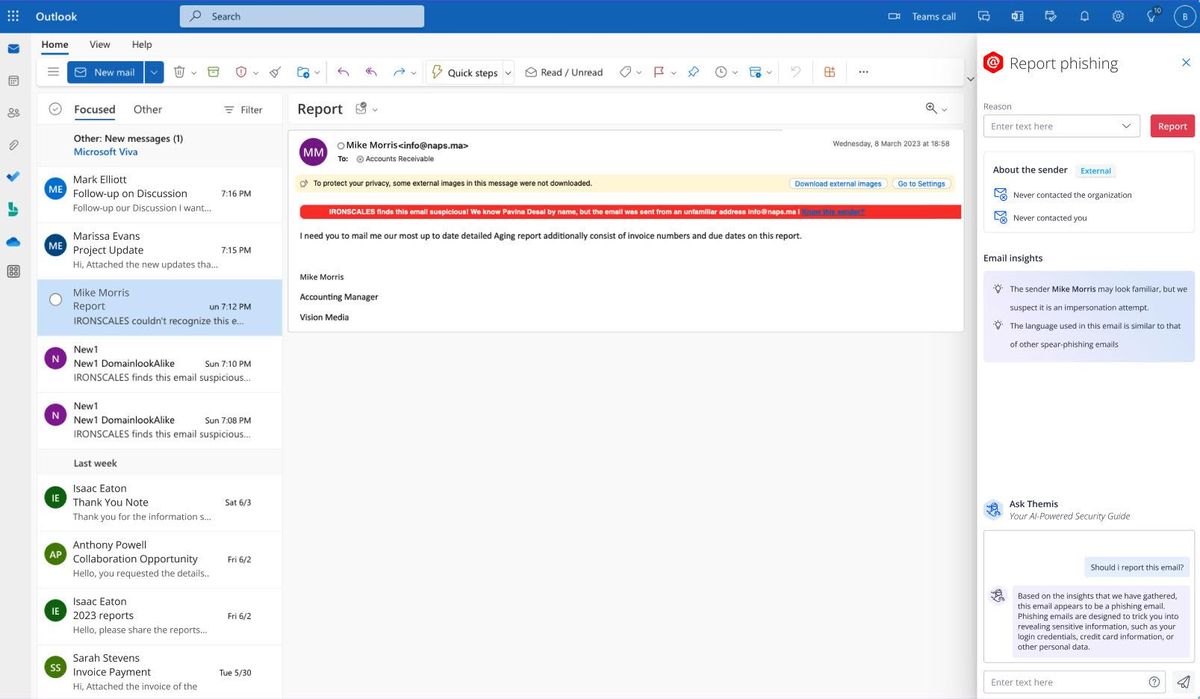 Email security platform IRONSCALES hopes to make everyone aware of suspicious items in their inbox with a new generative artificial intelligence tool: Themis Microsoft Outlook Copilot.
Themis Co-pilot, now in beta, leverages OpenAI's GPT model to provide chat assistance for self-service threat reporting. The large language model (LLM) behind it is called PhishLLM and is hosted within the IRONSCALES infrastructure.
The company noted that Business Email Compromise (BEC) and phishing attacks are on the rise and "expose vulnerabilities in traditional email security solutions through social engineering tactics." It also cites its own research that organizations expect BEC attacks to increase by 43 percent this year.
BEC and Phishing
IRONSCALES says the human element is most exposed when it comes to phishing attacks.It again cites research, this time from 2023 Verizon Data Breach Investigation Report (DBIR), found that nearly three-quarters of violations involved human factors.
As such, Themis Co-pilot aims to empower all employees, regardless of their role or security skills, to detect fake and malicious emails. Users can query suspicious emails using artificial intelligence, giving them real-time insights and allowing threats to be reported confidentially.
IRONSCALES also claims that Themis Co-pilot will reduce the rate of false positives reported by users, further freeing up valuable time for security teams.
Additionally, as Themis Co-pilot is increasingly used to report threats, it will leverage machine learning to automatically detect similar threats in the future.
The Co-pilot builds on the work of Themis AI, which IRONSCALES claims is the industry's first AI-powered security analyst. It leverages large datasets from millions of users to prevent breaches through a "reinforcement learning with human feedback" (RLHF) process.
Eyal Benishti, Chief Executive Officer, said: "With the launch of Themis Co-pilot, we are delivering the next innovation to help end users of any skill level increase their ability to stop attacks without adding additional cost or complexity to organizations ." Iron Scale.