A new device developed at the University of Florida could provide U.S. military personnel with long-term protection from mosquitoes.
Funded by the Warfighter Protection Program deployed by the Department of Defense, the device does not require heat, electricity or skin contact, the university said.
It was designed by Dr. Nagarajan Rajagopal. candidate, along with Christopher Batic of the school's Department of Materials Science and Engineering.
A press release notes that it was recently successfully tested in a four-week semi-field study by the Gainesville Department of Agriculture, showing that the controlled release of the repellent transfluthrin was effective in preventing multiple Mosquitoes enter the test site.
PETA claims Navy ended 'terrible' tests on sheep
Transfluthrin is an organic insecticide considered safe for humans and animals.
The repellent is made of tubular polypropylene plastic, 2.5 cm long, with two smaller tubes and a cotton swab filled with repellant.
In a statement, Rajagopal said the researchers used fishing lines to attach 70 of the devices to an opening in a large military tent, but not to a similar control tent. The caged mosquitoes were released at various locations outside the tent, and nearly all were killed or repelled within 24 hours.
Monarch butterflies rebound for second straight year over winter in California
Mosquitoes have the ability to transmit diseases and viruses, including malaria, dengue virus, Zika virus and West Nile virus.
Rajagopal said they are in the process of patenting the mosquito repellent device and the government is interested in further research to eventually commercialize it for the civilian market.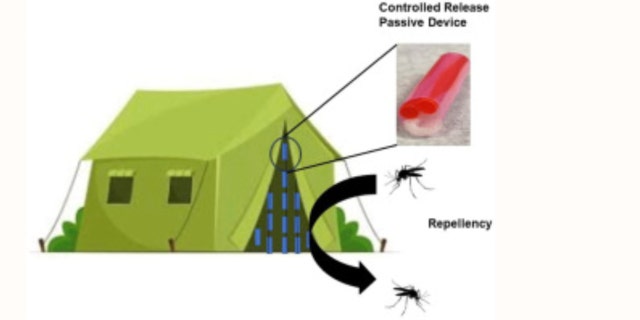 While field tests have shown the prototype creates a four-week protective space for mosquitoes, the final product – which will be manufactured using a 3D printing process – could extend this to as long as three months. In addition, the Department of Agriculture will evaluate other ingredients to expand their potential.
Click here for the Fox News app
"It doesn't stop with the mosquitoes," Rajagopal said. "We wanted to show that it could work with other insects, especially ticks, which cause Lyme disease and thus pose a threat."