A new version of Android malware called SpyNote is now hitting financial institutions around the world, and it's no joke. The malware combines features of spyware and banking Trojans, and targets high-profile banks, including HSBC.
Click to get KURT's CYBERGUY newsletter with quick tips, tech reviews, security alerts and simple how-to's to make you smarter
Hackers are also increasingly using the SpyNote malware to secretly observe and modify infected Android smartphones. Hence, cybersecurity experts warn Android users and urge them to be vigilant, especially during the installation of new apps.
How new is your new phone?
What does Spy Note do?
SpyNote, also known by some as SpyMax, is a highly dangerous family of spyware designed to monitor, manage and modify devices (in this case Android). It can do many harmful activities including collecting text messages, videos, phone calls and recordings, tracking GPS location, stealing passwords and credit card numbers and many more. The latest variant of the spyware, called SpyNote.C, is the first to openly target banking institutions and applications. It specifically targets banking applications and emulates applications from several well-known large financial institutions.
How to create or leave a group text
How SpyNote tricks Android users?
SpyNote follows the approach of other banking malware by requesting permission to access accessibility services so it can extract two-factor authentication codes and transmit banking information.
Another way it uses to trick people is by disguising itself as well-known apps like Facebook, WhatsApp, and Google Play, as well as other generic apps like wallpapers, productivity, and gaming apps. Distributing malware by disguising it as a recognizable application is a common way hackers take advantage of their victims.
Large sums of money could be hiding in your spam folder
Has SpyNote hacked many Android users?
Between August 2021 and October 2022, at least 87 different customers mistakenly purchased SpyNote after its developer advertised it via Telegram channels under the pseudonym CypherRat. However, in October 2022, CypherRat's source code was made public on GitHub, an IT service management company. After the code was released, SpyNote attacks increased significantly and began to focus more on online banking applications.
Are you overpaying for Netflix?
How can I protect myself from SpyNote?
Experts warn Android users not to download any apps that look suspicious or come from unknown sources. You should always check an app's reviews and star ratings before downloading, and don't download if only a few people have used it. Also, only grant permissions that are relevant to the app's purpose.
However, the best way to protect your device from malware is to install antivirus software. My greatest wish is to educate and inform you of the increasing real threats to each of our connected devices, and to encourage you to use strong antivirus security for everything in your life that is connected to the rest of the world.
Click the magnifying glass icon at the top of my site, search CyberGuy.com for "best antivirus" to see my expert reviews of the best antivirus protection for Windows, Mac, Android, and iOS devices.
RELATED: Free Antivirus: Should You Use It?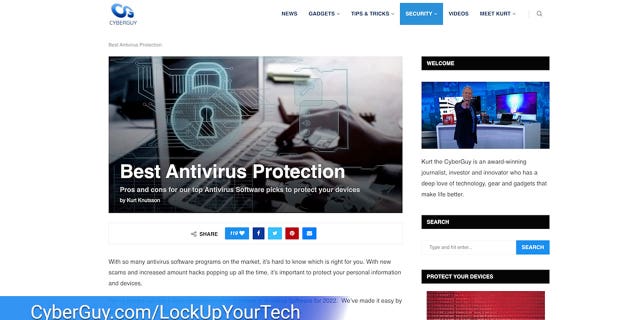 Click here for the Fox News app
For more of my security tips, visit CyberGuy.com and be sure to subscribe to my free CyberGuy Reports newsletter by clicking the "Free Newsletter" link at the top of my website.
Copyright 2023 CyberGuy.com. all rights reserved. CyberGuy.com articles and content may contain affiliate links that earn commissions on purchases made.