Southwest Airlines' dispatch system collapse continued into Wednesday, as the airline canceled more than 2,500 flights today in an effort to resume its operations. The travel nightmare began over the Christmas weekend, with airlines delaying 8,425 flights and canceling 5,200 across the country, even at airports away from winter storms, and continued through the week leading up to New Year's Eve.
Click to get KURT's CYBERGUY newsletter with quick tips, tech reviews, security alerts and simple how-to's to make you smarter
Thousands of flights canceled and delayed at U.S. airports
Subzero temperatures, high winds, rain and snow hit the Midwest, the Eastern Seaboard and as far west as Washington state. FlightAware's MiseryMap lights up like a Christmas tree, and the bulk of the delays at major hubs across the U.S. remain mostly at Southwest Airlines.
Southwest Airlines apologizes for second time, announces resources for cancellations, compensation, lost bags
Stop thinking an overwhelmed airline will help you – take matters into your own hands
I helped a friend get home from El Paso, Texas by utilizing US award miles and using these tools. He reported hundreds of people waiting in line at the Southwest ticket office for hours and no one answering his calls.
That's when I turned to these tools below, hoping he'd be out of trouble within a few hours. After booking a few flights through Phoenix Airport (PHX) and landing at a nearby airport, he's headed home, about a 30-45 minute drive from his home airport.
TYRUS slams Biden administration's response to Southwest collapse: No help when Americans are in trouble
rental car sold out
Passengers at some airports continued to be stranded as rental car options and alternative modes of transportation began to sell out. No matter which airline you're booked on, arming yourself with these essential tools before heading to the airport will help if your flight is delayed or canceled.
Southwest Airlines flight diverted to Milwaukee due to 'potential mechanical issue' amid cancellation chaos
5 Essential Travel Tools to Use When Your Flight Is Canceled
Canceled flight? These tools can help you get on the next flight while others are waiting in line with nowhere to go.
FlightsFrom.com Mobile Site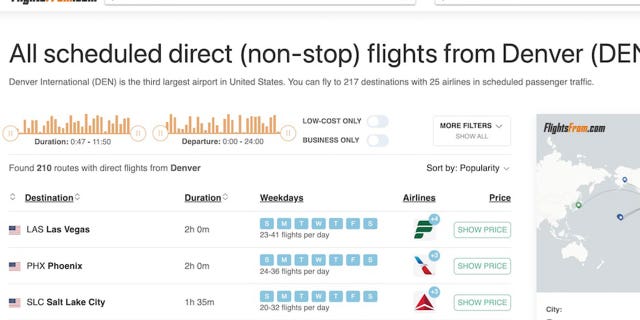 bookmark this www.flightsfrom.com View all routes and scheduled flights for each airport on your mobile phone. Knowing this can help with rebooking when a ticket counter agent sees limited options. It might seem counterintuitive to consider flying further from your desired destination, especially when airlines and ticketing websites don't offer farther routes.
Backtracking to a city can provide a slot on a zigzag flight journey to a more distant airport and still get where you want to go faster than waiting for traditional routes to open. The ability to piece together information on unconventional routes involving multiple airlines is one of the greatest strengths of the flightsfrom.com website.
Flyboard App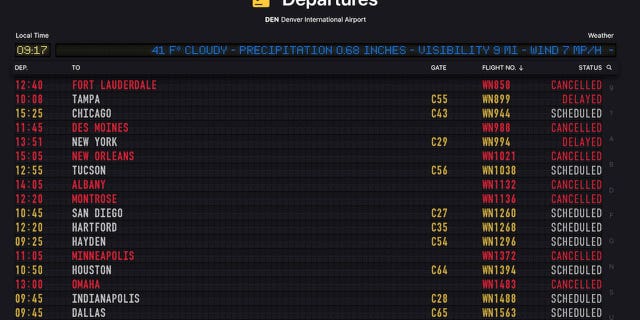 The Flight Board app helps you track delayed and canceled flights. Most valuable is how it shows which flights are still operating at your airport when your flight is delayed or canceled.
This helps you know which other flights are operating to get you to your destination. Remember to capture photos of available flights while you negotiate reinstatement.Click for the Flight Board app iOS with android.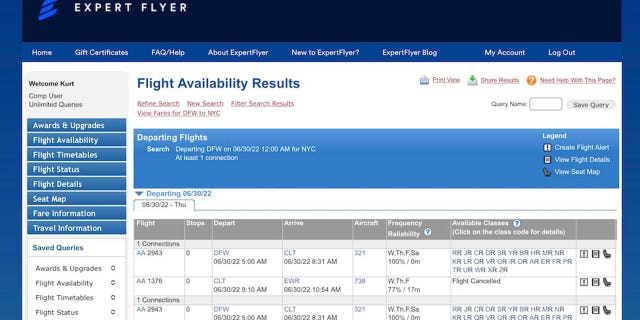 expert flyer The site reveals the vast inventory of flights that airlines are hiding from you. Frequent flyers make this a must-have subscription, and it reveals far more than any airline wants you to know. In fact, the tool itself can help you guide airline representatives to available flights that they may not even see.
I especially like a feature that allows you to click through to additional flight status information that displays each flight log. Once, after a flight was cancelled, a gate agent told me it was weather related and there was nothing she could do.
ExpertFlyer then allowed me to show real data that the flight was canceled for "operational" reasons, without mentioning the weather. Yes, I was given a hotel voucher to pay for my stay before my flight resumed the next morning.
ExpertFlyer has a free seat reminder feature, and the real full version is a monthly or annual paid subscription, which is definitely worth the money for me. When it comes to free online apps and services of any value, if you get something of value for free, you are the product. Find ExpertFlyer here.
Take a quick recap of their application in the video below.
LiveATC Air Traffic Control Radio App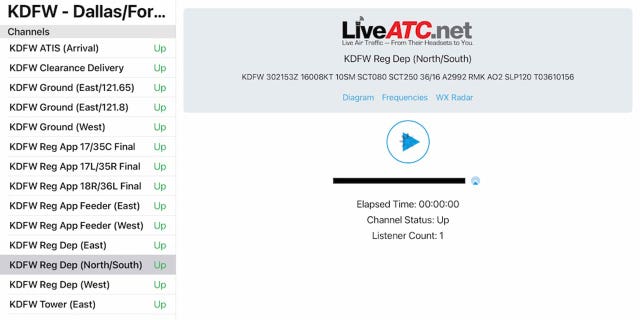 The LiveATC app started as a fun way to listen to air traffic control talking to the cockpit. This can be one of the most important recovery tools today when delays start to take hold on your journey.
Find your city, then choose the airport and ground access for your departure. You often hear the exact reason your flight is delayed. In some cases, you'll hear the sound of a flight being canceled before it's announced to the cabin or flashed on the airline app.
The advantage of spotting a problem before the masses can help you get the few remaining seats on a subsequent flight that will get you to your destination. LiveATC is here.
ITA Matrix flight search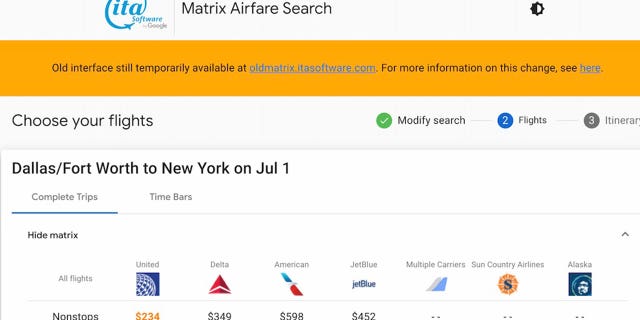 The ITA Matrix website shows all available flights for all airlines at the time. You can't buy tickets here, just get notified. The best thing to do is to buy your ticket directly from the airline you plan to travel on. What works best here is that it shows you available flights to your destination in real-time.
If your flight is scrapped, it will show other airlines that may be better flight recovery options. To save money, airlines would rather put you on a later flight on the same company plane. In fact, you can often squeeze in an airline to confirm a competitor's travel for a failure on their shoulders. Search for flights on ITA Matrix here.
ELAINE CHAO warns of more scrutiny after 'total nightmare' for airlines over Christmas
Professional flying skills
Book tickets on larger aircraft when available. Larger aircraft used on international routes are rarely canceled.
Airline lounges offer better rebooking assistance. If you can't contact an agent or repurchase online using the airline's app, buy a day pass.
avoid checked luggage Allow yourself maximum flexibility. Airlines won't always transfer checked bags to another carrier if you find a flight with another airline that will get you where you want to go.
Listen to the LiveATC App Control Tower Hear how ground air traffic controllers are handling your flight for your airport during delays. You'll know about rebookings better than anyone else.
Have you tried any of these tools? Let us know if you succeed in the comments below.
For more travel tips, go to CyberGuy.com and search for "travel" and be sure to subscribe to my free CyberGuy Report newsletter at CyberGuy.com/Newsletter.
Copyright 2023 CyberGuy.com. all rights reserved. CyberGuy.com articles and content may contain affiliate links that earn commissions on purchases made.